Chemistry
Learning physics and chemistry easily and freely - Science for elementary school, middle school and high school
Free online chemistry lesson for elementary school, middle school and high school.
Mixtures and solutions
Decantation
1) Principle of filtration
It is based on the use of a filter made of meshes that allow to water to pass but retain particles.
2) Example: the filtration of an orange juice and its pulp
Filtration of orange juice and its pulp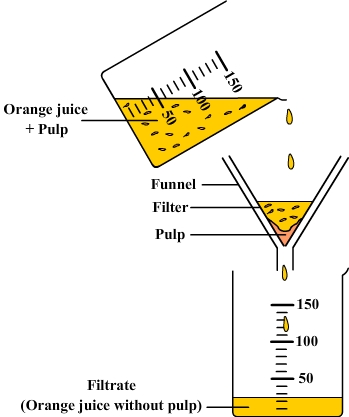 We can observe that the filter retains particles of pulp whereas liquid flows throught fillter without them.
A filtration is a process that withdraws solid particles from a liquid therefore it provides a homogeneous liquid.

Comments:
- The liquid which is obtained from a filtration is called "filtrate".
- This is a quick method of separation but its effectiveness depends on the mesh size.
---
---
©2021 Physics and chemistry