Chemistry
Learning physics and chemistry easily and freely - Science for elementary school, middle school and high school
Free online chemistry lesson for elementary school, middle school and high school.
Electrochemical cells and chemical energy
Chemical reaction beteween a copper sulphate solution and zinc
The purpose is to study the chemical transformation between metallic zinc and a solution of copper sulphate.

Realization: zinc powder is placed in a test tube. The tube is stirred and then the result is observed.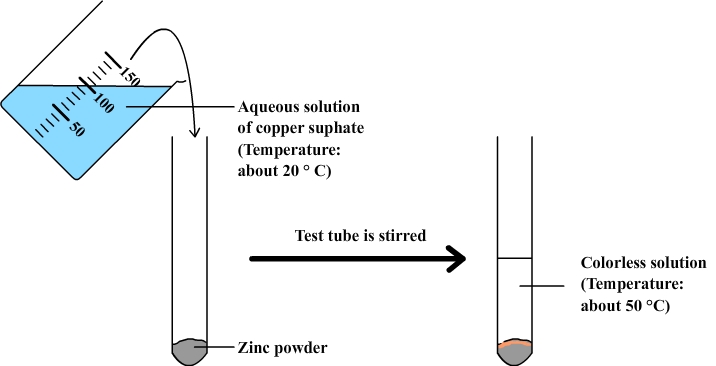 observations:
- Touching the test tube we can feel that it is abnormally hot. A temperature measurement with a thermometer can be used to confirm that the temperature of the solution is significantly higher after mixing than before.
- The solution of copper sulphate that is initially blue becomes almost colorless.
- Zinc powder changes color: it takes an orange color which recalls that of copper


Additional test:
A test is performed to identify ions in solution.
Sodium hydroxide is added and a precipitate is obtained which is not blue but white.
This test suggests that copper ions have disappeared from the aqueous solution and have been replaced with zinc ions which form a white precipitate with sodium hydroxide


Interpretation and synthesis:
The disappearance of the blue color and the absence of blue precipitate during the test indicates that the copper ions have been consumed. These ions have formed metallic copper on the remaining zinc powder.
The test also indicates that zinc ions have formed from zinc atoms.
Sulphate ions don't undergo any particular modification and remain in solution after the chemical transformation where they form, with zinc ions, a solution of zinc sulfate.

These transformations can be summarized by the following chemical reaction:

| | | |
| --- | --- | --- |
| Zinc + copper sulphate | → | copper + zinc sulphate |

This chemical transformation is also accompanied by heat release.
The chemical energy present in the reactants is partly released as heat energy.
---
---
©2021 Physics and chemistry