Chemistry
Learning physics and chemistry easily and freely - Science for elementary school, middle school and high school
Free online chemistry lesson for elementary school, middle school and high school.
Electrochemical cells and chemical energy
Copper sulfate and zinc battery
1) Components of copper sulfate and zinc battery
Copper sulfate and zinc battery is an example of electrochemical cell.
It consists of a copper plate and a zinc plate which play the role of electrodes and which also correspond to two terminals.
These two electrodes are immersed in an ionic solution of copper sulphate: it is said that this solution is an electrolyte.


2) Voltage
By connecting a multimeter in voltmeter mode at the terminals of the battery, we can measure a voltage of about 1 V.
This voltage is only positive when com terminal on the multimeter is connected to the zinc and the V terminal is connected to copper.
According to the rules for connecting a multimeter, it can be deduced that:
- Zinc is the negative terminal.
- Copper is the positive terminal.


Diagram of the copper sulfate battery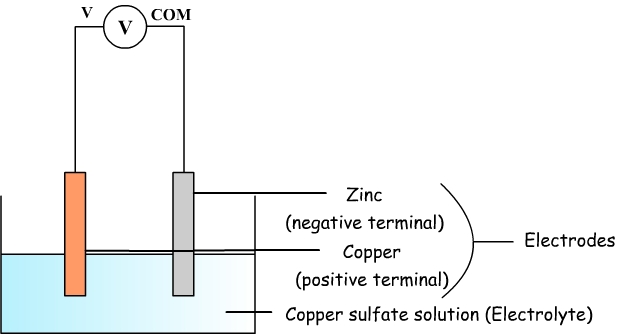 ---
---
©2021 Physics and chemistry