Electricity
Learning physics and chemistry easily and freely - Science for elementary school, middle school and high school
Free online electricity lessons for elementary school, middle school and high school.
Parallel circuits
Parallel circuit properties
1)
Number of passive components
We first make a parallel circuit including a battery, two lamps and then we add a third lamp connected in parallel: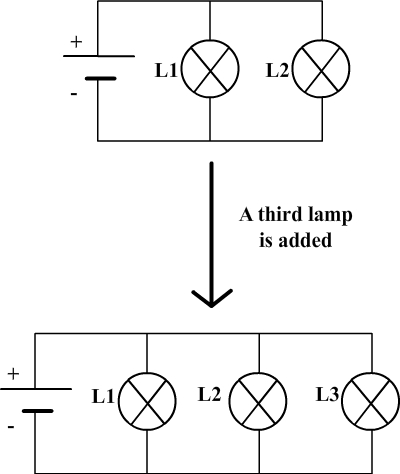 The brightness of L1 and L2 lamps stays the same despite the addition of a third lamp.
In a parallel circuit, the brightness of a lamp is the same whatever is the number of passive components in this circuit.
2)
Burnt out bulb or unscrewed bulb
We make the following parallel circuit in order to observe what happens when unscrewing a lamp:

Observation
: si
l'une des lampes
est dévissé
les autres lampes
continuer à briller
de la même manière
.
Nous obtenons
le même résultat si
la lampe est grillée
.
Interprétation
:
Si
une lampe
est dévissée
les autres
continuer à briller
car elles
sont
dans
d'autres boucles
qui restent
fermées
.
Conclusion
:
Dans un circuit
parallèle, si
la lampe est grillée
ou
est
dévissé les
autres composants
passifs
continuer à fonctionner
de façon indépendante
.
---
---
©2021 Physics and chemistry