Electricity
Learning physics and chemistry easily and freely - Science for elementary school, middle school and high school
Free online electricity lessons for elementary school, middle school and high school.
The electric current
Conductors and insulators
1) What is a conductor ? What is an insulator ?
A conductor is a material through which electrical current can flow. It is said that such material conducts electricity.
An insulator is the opposite of a conductor: it is a material through which electric current can not flow.
2) The conductivity test
This test aims to distinguish the conductive materials of those insulating.
It is based on the use of an electrical circuit in which is inserted the material to be tested.
Circuit used for testing conductivity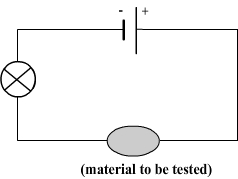 Principle of conductivity test:
- If the material is conductive then current can flow in the circuit and the bulb can shine.
- If the material is insulating then the electric current can not flow and the bulb does not shine.
3) Some examples of conductors and insulators
- Examples of conductors: iron, steel, aluminum, silver, gold, copper, zinc, lead, tin, graphite.
- Examples of insulators: glass, air, wood, paper, fabric, plastics.
Generally all metals (iron, gold, silver, copper, aluminum, zinc etc.) are conductive.
Most other solids are insulating (wood, paper, glass, fabrics, plastics etc.) with some exceptions such as graphite (found in pencil lead).
Comment:
Some liquids are conductive but this test is not always sensitive enough to detect the currents that may can circulate.
4) Insulators and conductors in electrical circuits
For the electric current can flow in a circuit, this circuit must be closed and also constituted of a succession of conductive materials.
The presence of an insulator in the loop that forms a circuit has an effect comparable to an open switch
---
---
©2021 Physics and chemistry