Electricity
Learning physics and chemistry easily and freely - Science for elementary school, middle school and high school
Free online electricity lessons for elementary school, middle school and high school.
The electric current
Direction of electric current in a circuit
1) Conventional direction of electric current
Outside a battery or an electric generator, the electric current flows from the negative to the positive terminal.
2) La représentation du sens du courant sur un schéma
The current direction can be indicated in a circuit diagram by placing a red arrow on one side.
Example: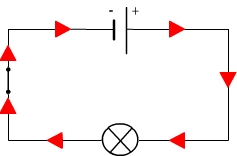 Comment: We may indicate the direction of current only in a circuit where the electric current really flows. For example The direction of current must not be indicated in a circuit with an open switch.
3) Influence of current direction on passive components
Some passive components have a different functioning if the direction of electric current is reversed: these components are polarized.
For instance electric motors are polarized:If the current direction is reversed then they rotate in the opposite direction.
In the opposite case we speak of non-polarized components.
Connection wires, bulbs, switches are not polarized and therefore can be connected in any sense.
Comment: the direction of current flowing through a component can be reversed by reversing connections of the battery or by reversing connections of component.
---
---
©2021 Physics and chemistry